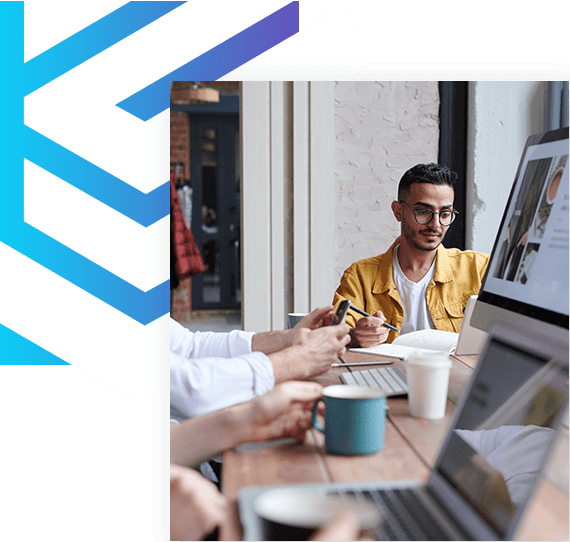 e-Commerce - Growth and Profitability
The popularity of e-commerce is now greater than ever, and it shows no signs of slowing down. As technology continues to advance, more and more consumers are turning to online shopping as their preferred method of purchasing goods and services. In this article, we will explore the growth of e-commerce over the years, its current state, and its future potential.
01
eCommerce Website
Support and Evolution
02
Artificial Intelligence
Support and Evolution
03
Augmented Reality
Support and Evolution
E-commerce Growth Data Over the Years
E-commerce has come a long way since its inception in the 1990s. According to data from Statista, global e-commerce sales amounted to $3.53 trillion in 2019 and are projected to reach $6.54 trillion by 2022. In the United States alone, e-commerce sales reached $794.5 billion in 2020, a 32.4% increase from the previous year.
The COVID-19 pandemic has also had a significant impact on e-commerce growth. With lockdowns and social distancing measures in place, consumers turned to online shopping as a safe and convenient alternative to traditional brick-and-mortar stores. In 2020, e-commerce sales in the U.S. grew by 44%, the highest year-over-year increase in two decades
Current State of E-commerce
The pandemic accelerated the shift towards online shopping, and it seems that this trend is here to stay. In a survey conducted by Digital Commerce 360, 61% of respondents stated that they plan to continue shopping online even after the pandemic ends. This indicates a long-term change in consumer behavior that will continue to drive e-commerce growth.
E-commerce has also become more accessible to consumers, thanks to advancements in technology. With the rise of mobile devices and improved internet connectivity, consumers can shop online anytime, anywhere. In fact, mobile devices accounted for 45% of all e-commerce sales in the U.S. in 2020.
Future Potential of E-commerce
The future of e-commerce looks bright, with continued growth projected in the years ahead. According to a report by eMarketer, global e-commerce sales are expected to reach $7.3 trillion by 2024. This growth will be driven by factors such as increasing internet penetration, rising disposable incomes, and the growing adoption of mobile devices.
Another key factor that will drive e-commerce growth is the rise of social commerce. Social media platforms such as Instagram and Facebook are increasingly becoming popular destinations for online shopping, with features such as shoppable posts and in-app checkout. According to a report by eMarketer, social commerce sales in the U.S. are projected to reach $36.62 billion in 2021, a 35.8% increase from the previous year.
With continued advancements in technology, increasing internet penetration, and changing consumer behavior, e-commerce is set to continue its growth trajectory in the years ahead. Businesses that adapt to this shift and invest in their e-commerce capabilities are well-positioned to thrive in this new era of retail.
One trend that is becoming increasingly important in the e-commerce world is the focus on sustainability. Consumers are becoming more conscious of the environmental impact of their purchases and are demanding more sustainable options. E-commerce companies that prioritize sustainable practices, such as using eco-friendly packaging or partnering with sustainable suppliers, are likely to attract a growing customer base.
Another trend that is shaping the future of e-commerce is the rise of voice-activated shopping. Voice assistants such as Amazon's Alexa and Google Home are becoming more common in households, and consumers are using them to make purchases. In fact, a report by OC&C Strategy Consultants found that voice shopping is expected to grow to $40 billion in the U.S. by 2022. E-commerce companies that optimize their platforms for voice-activated shopping are likely to gain a competitive advantage in this space
Personalization is also becoming increasingly important in e-commerce. Consumers are looking for personalized shopping experiences that cater to their individual needs and preferences. E-commerce companies that use data analytics and machine learning to personalize their offerings, such as product recommendations or personalized marketing messages, are likely to see higher customer engagement and sales.
Another trend that is shaping the future of e-commerce is the integration of augmented reality (AR) and virtual reality (VR) technology. These technologies allow consumers to experience products in a more immersive way, such as trying on clothes virtually or visualizing furniture in their homes before making a purchase. E-commerce companies that incorporate AR and VR into their platforms are likely to see higher customer engagement and satisfaction.
In addition to these trends, e-commerce companies need to keep up with the changing regulatory landscape. For example, in the European Union, the General Data Protection Regulation (GDPR) sets strict rules on data protection and privacy, which e-commerce companies operating in the EU need to comply with. E-commerce companies also need to keep up with changing tax laws and regulations, especially with the rise of cross-border e-commerce.
As e-commerce continues to evolve, businesses need to stay adaptable and flexible. One way to do this is by investing in emerging technologies and staying up-to-date with the latest trends. By doing so, businesses can stay ahead of the competition and meet the changing needs and expectations of consumers.
E-commerce is an ever-evolving industry with a bright future. As technology continues to advance and consumer behavior changes, e-commerce companies need to stay ahead of the curve and adapt to these changes. By prioritizing sustainability, voice-activated shopping, personalization, and augmented reality, e-commerce companies can gain a competitive advantage and thrive in this dynamic industry. E-commerce has been growing steadily over the years, and it has only accelerated during the pandemic. However, with the ever-changing landscape of technology, it's important to keep an eye on the trends and changes that will shape the future of e-commerce.
What can we do to establish your e-commerce business?
At Digitocrate (Pvt) Limited, we specialize in e-commerce website development and digital marketing services. Our team of experts has years of experience in building custom e-commerce websites that are tailored to the unique needs of our clients. We work closely with our clients to understand their business objectives, target audience, and industry trends to create a website that not only looks great but also drives sales and revenue.
In addition to website development, we also offer digital marketing services that can help businesses reach their target audience and drive traffic to their e-commerce website. Our team of digital marketing experts can create and implement a customized digital marketing strategy that includes search engine optimization (SEO), social media marketing, pay-per-click (PPC) advertising, and email marketing.
If you're looking to start or grow your e-commerce business, look no further than Digitocrate (Pvt) Limited. Our team can help you structure your e-commerce business system from start to finish, ensuring that you have the right website and digital marketing strategy in place to achieve your business goals. Contact us today to learn more about our services and how we can help take your e-commerce business to the next level.